Vienna Woods and the Austrian Lake District 2019
June 9th to June 23rd
Ride Director: Roger Hoyer
Ride Co-Director: Anthony Moy
Ride Driver: Jeff Messerschmidt
Report by: Patricia Olson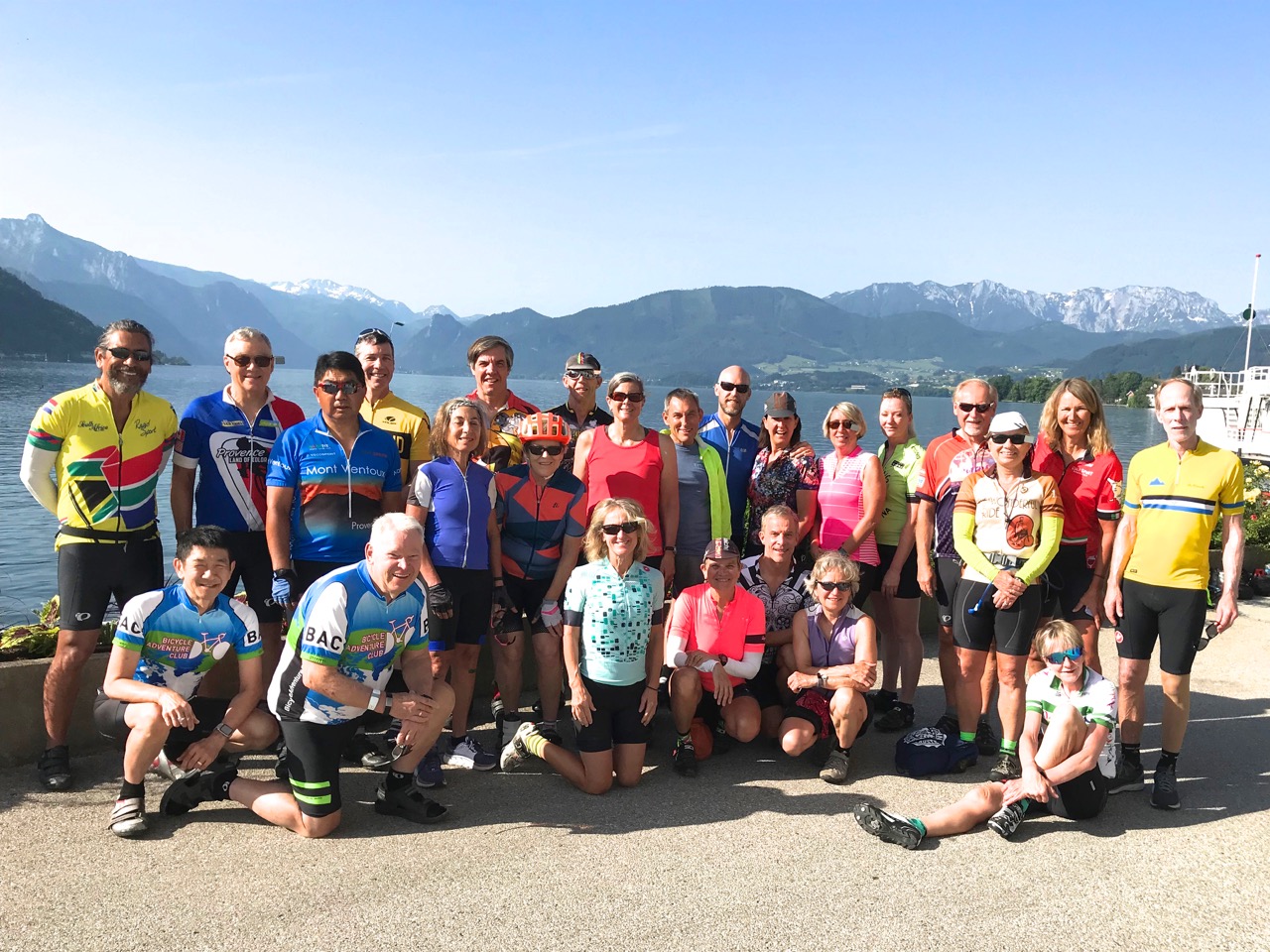 Grüß Gott from Österreich – where real men wear lederhosen and farm women swing scythes!!
In two words – this BAC ride was AWE-SOME! The scenery was absolutely non-stop and it was the rare occasion that one would cycle through nondescript countryside waiting for the 'views'. It was ALL incredible countryside to see, especially from the seat of a bike. This ride was about experiencing Austria, the land, the tidy farms, the rushing streams and rivers and waterfalls, the fresh clean air and the scented forests. It filled up one's senses. And yes, we worked for it (see ride description below).
How did fellow riders react?
"Best BAC trip I've ever taken (18 to-date)"; "It was a highlight visiting Hitler's Eagle's Nest"; "Roger & Tony were concerned about everyone's well-being on the trip, very genuine"; "menus and meals beautifully presented"; "the mountains, lakes, fresh air, dramatic landscapes, picture-perfect farms"; "being surprised with a birthday cake at dinner!"; "the quality of the roads made riding an absolute joy"; "attending Mass on Corpus Christi in the Mariazell Basilica; one of the 7 most important pilgrimage cities in Europe"; "the prolific flowers, in yards, along the roads, in overflowing window boxes", "the connection I felt to the country through the routes and the hotel hosts"; "it's harder than I expected, but I love it"; "I'd sign up again in a heartbeat"……..and so it went.
Here's the "RUNDOWN"
· Ride Description – accurately reported difficulty rating, miles per day and elevation gains. Difficult days were interspersed with less difficult days and the rest days were well-considered for all the right reasons: recovery, sight-seeing, optional rides.
· Communication – pre-trip communication was thorough and continued in that manner throughout the course of two weeks. Happy Hours were held promptly with refreshments, debriefing time and the use of large screens and computer maps/slides to show routes and photos of the next day's ride. Professionally presented on every occasion.
· Maps/cue sheets/route review – absolutely masterful. GPS files were flawless and at evening reviews of the route, there were few if any corrections from the day's ride. Quality of roads and some Austrian 'wegs' or bike paths used were smoothly surfaced on almost all occasion and traffic volume was not high.
· Accommodations were centrally-located and not arduous to find nor did they require riding in high traffic to access. Hotels were a nice blend of generational family-run boutique hotels to lavish spa hotels in the Styrian Alps. Some had lakeside views, many had spas a few had lap pools.
· Food – breakfasts and dinners were both served at 7:00! This was welcome on both ends of the day by all riders. Leaders had some input on menus and their attention to details did not go unnoticed by the participants. Food was plentiful, regional, healthy and appealing.
· Friends leading friends: - in keeping with the BAC philosophy, one rider organized an afternoon tour of the incredible Melk Abbey; another rider led a recovery yoga session on a rest day in Mondsee.
Auf Wiedersehen und Gute Fahrt!