Virginia Horse Country, Mountains and Valleys 2019
May 9th to May 23rd
Ride Director: Karen Hass
Report by: Carol Anderson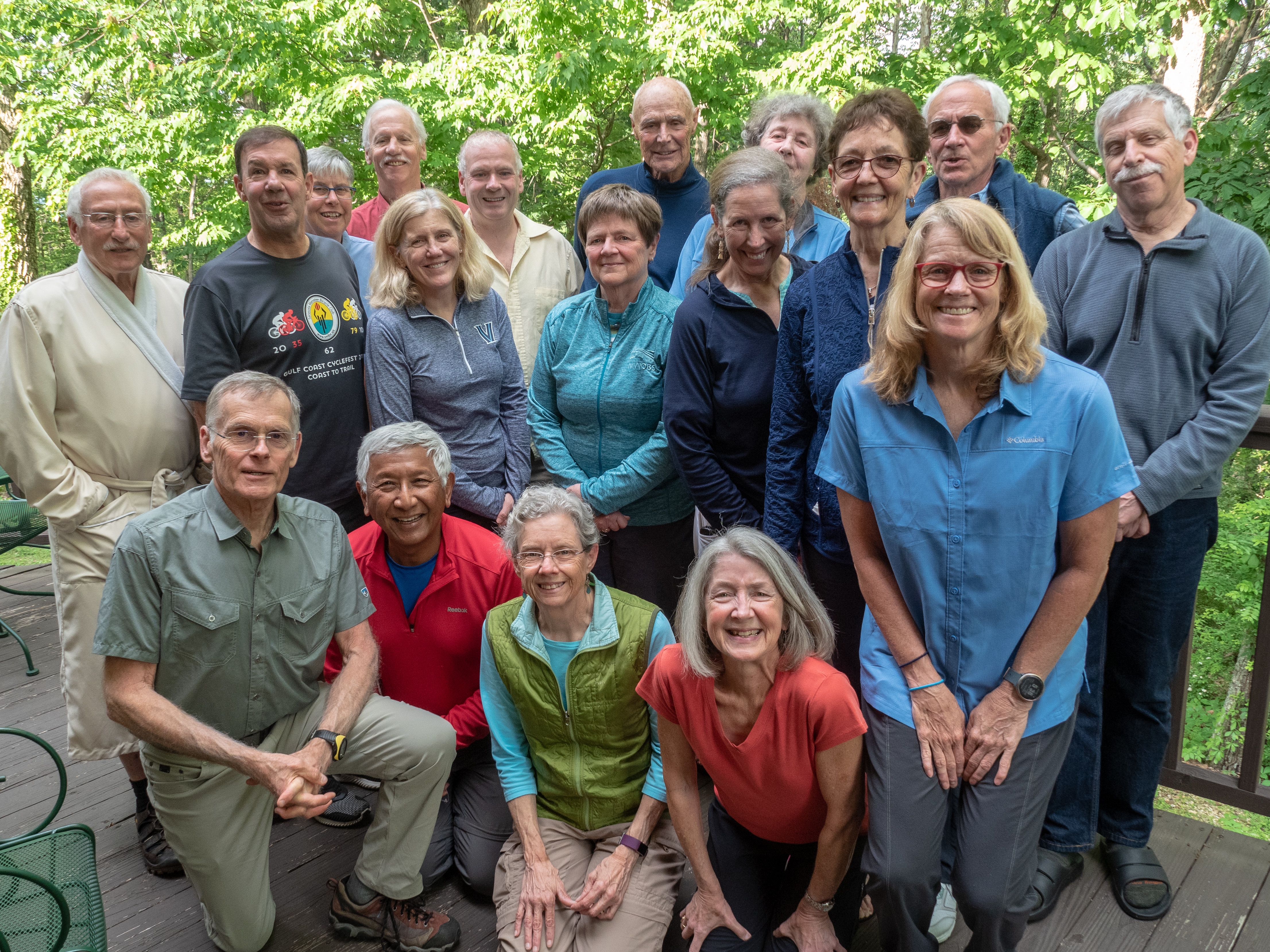 What an experience! Our leader, Karen Hass, knows how to run a BAC tour.
We began our odyssey in Leesburg, Virginia. Our first few of days of riding were on delightful roads in the horse country. We next braced ourselves for the epic three days of riding on Skyline Drive. After a restless night of anticipation, we woke to torrentially pelting rain and pea soup fog -- not a safe formula for a 53-mile, 7,200-foot climb. With no relief in the forecast, Karen decided everyone would be shuttled to Big Meadows Lodge. Were we disappointed or were we relieved? Maybe both. Day 2 on Skyline Drive, a layover day at Big Meadows, continued with the cold, rain and fog. Only a few hardy souls rode while the rest explored the area close to the lodge on foot. Our third day on the drive was still cold and drizzling but the fog had abated and so it was not dangerous to ride. Everyone had a great ride either completing the drive or diverting early to the valley.
Our Skyline Drive foray complete, it was time for a 3-night stay in Waynesboro. Our lodging was in an absolutely beautiful B&B at the top of a short beast of a climb. With 2 full days available from our mini fixed base retreat, we visited Monticello and/or did loop rides.
We did not want to leave our oasis but Karen said we had to go. So off we went for a multi-day ride north through the Shenandoah Valley. Our routes were on the most fabulous rural country roads. These routes came with a price: rollers with some occasionally short but quite steep climbs. But the downhills were fantastic. Other than the occasional manure trucks, the scenery was unbeatable. It seemed that every tree and plant was in bloom. Be aware, though, that you can't get chutney on a cheese sandwich and you can't get an ice cube in a cup of coffee.
We spent the next to last 2 nights in Shepherdstown, West Virginia, in rooms overlooking the Potomac River. Available to us were a variety of activities such as riding to/through Antietam or Harper's Ferry, walking or riding on the C&O canal, visiting the historic town of Shepherdstown, glass of wine on our private decks, or resting at the pool. Our bittersweet farewell dinner was in the luxurious hotel dining room.
Our final ride was our return to Leesburg. It was still a bit of a challenge but palled in comparison to a family of mother, father, and 4 young girls (6, 8, 10 and 13) we met who were end-to-end hiking the Appalachian Trail. Our reward at reaching Leesburg was an impromptu pizza party at the pool. It was a great finish to a classic tour.
Now for the nitty gritty.
Ride description: very good. When this tour is run again, be aware that the elevation gains will involve some very steep climbs so low gears are advantageous. Be sure to have large water bottles and snacks on your bike as stores are not always available on the route.
Ride rating: the 3B rating was accurate. People who recorded elevation gain during their rides reported higher numbers than those predicted by RideWithGPS which pushed the tour to the high end of a 3B.
Routes and traffic: good routes. We did have a few days where the routes were so rural, we had no access to services such as food or water. Every tour has at least some white-knuckle riding but it was minimal on this tour – only a few miles total over the entire tour. Some roads were very narrow but traffic on these roads was light and most drivers were incredibly patient.
Maps, GPS, cues sheets: perfect.
Lodging, meals, social/map meetings: the best a town could offer and still provide access to local services. Social meetings were sometimes in a hotel room since alcohol laws in Virginia did not allow for us to be in a public location. With a small group, this was never a problem.
Support: Our driver, Cathy, aided by her husband Scott, did a fantastic job. We all pledged to ride the full ride but we were all very secure knowing that if we got into trouble, we would be supported.
Thank you, Karen, Cathy and Scott, without whom this trip would not have been a success. Kudos to every participant on this trip. Everyone, including the 3 BAC newbies, chipped in to help make this trip a success in the true BAC spirit.
Hope you have as good a time as we did when you do this tour in the future……….