GAP and C&O Trails 2021
October 9th to October 18th
Ride Director: Barb Rudolph
Ride Co-Director: Glenn Rudolph
Ride Driver: Jan Ciano
Report by: Cindy Fewell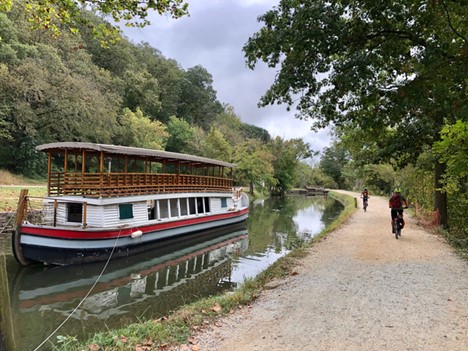 The Great Allegheny Passage (GAP) and the Chesapeake and Ohio Rail Trail
(C & O) were lead by Barb & Glenn Rudolph. This 10 day tour was rated 1C with 6 riding days.
Day 1: Happy Hour. The C&O Trail - managed by the National Park Service - passes through very small, historically old towns and bucolic farmland.
Prior to 5pm Happy Hour, many of us had time to visit the Alleghany Museum in Cumberland, MD to learn the historical significance of the C&O Canal. This ride is a cycle through time. Cumberland has rich history dating back to pre-American Revolution. The museum is highly recommended,
Day 2: Cumberland - Hancock, 60 miles: rain drizzle all day made the trail navigable but muddy. When dry, the trail is hard pack dirt. We cycled through the Paw Paw Tunnel, constructed in 1850. The trail on the north side of the tunnel (after passing through) was closed due to trail maintenance. The Ntl. Park Service had cut trees and many felled trees obstructed the trail. This required lifting bikes over trees and watching your step as you walked past an exposed river embankment. Glenn Rudolph was instrumental in carrying bikes over felled trees and helping riders navigate their way across these obstacles. Approx. 75 yards past the tunnel, and felled trees, was a chainlink gate with a loose cable lock. We managed to get the bicycles through the gate so we could proceed down the trail. This option was preferable to Option B: trudging over the mountain on a single track muddy trail; or, Option C: riding a long, indirect route, on two highways to reconnect to the C&O Trail.
Day 3: Hancock - Harper's Ferry, 62 miles. Lots of historical landmarks to read as we passed by water locks, canal houses, and dams. Note: be prepared to carry your bike & gear up several circular metal steps & landings to access a pedestrian bridge that crosses the river to Harper's Ferry.
SUGGESTION: make time in your itinerary to visit Harper's Ferry Ntl. Historical Park. This is where, in July 1859, John Brown and his twenty-one men army invaded Harpers Ferry and took over the federal armory, arsenal, and rifle factory to protest slavery.
Day 4: Harper's Ferry - Georgetown, 60 miles. To return to the trail, all riders must repeat the pedestrian bridge/metal stairs.
As the trail parallels the canal, we cycled under a green leafy canopy and rode over fallen autumn leaves.
SUGGESTION: Finding the Georgetown hotel was tricky. Located at, 801 New Hampshire Ave NW, the Residence Inn by Marriott is best accessed by continuing on the canal trail (which is urban at this point) until reaching the Thompson Boat Center, which is after the Francis Scott Key Bridge. The boat center is adjacent to the Potomac River; the front faces Virginia Ave. NW. Follow Virginia Ave. east less than 1/2 mile to New Hampshire NW and then turn L/NE for two blocks.
A C&O Trail sign at 34th St. points to some concrete stairs on an upper level to continue. This is more difficult and is exposed to traffic. It's best to stay down on the water edge all the way to Thompson Boat Center. Also, Mile Marker 0 is less than 100 feet from the SE side of the TBC building.
Day 5 & 6 spent exploring WA D.C. on our own. For easy access to the Mall, the Foggy Bottom/George Washington University Metro Station is located two blocks from the Residence Inn by Marriott. Whole Foods is located one black past the Metro Station.
Day 6: Six hour Amtrak train ride from Union Station, WA D.C. to Pittsburgh, PA. Easy to take the metro to Amtrak Union Station. The Amtrak train seats are wide and comfortable, especially if you use the fold-out leg rest. Our train was delayed 1 hours so we arrived in Pittsburgh approx 1:30am. We walked 0.8 miles to Wyndam Grand Hotel, located adjacent to the GAP Trail. Due to late delay, most riders got 5 hours of sleep 😴
Day 7: GAP Trail. Pittsburgh - Connellsville, PA, 59 miles. Weather was overcast but temps perfect. Very scenic trail from Pittsburgh paralleling the river. Trail conditions were smooth, the autumn leaves fell as we cycled. The Comfort Inn Hotel is located right off the trail
Day 8: Connellsville - Rockwood, 47 miles. Day started with heavy rain which continued throughout the day letting up at times but never stopping. Spent night in hostel due to small size of Rockwood. Think 'Pajama Party' with 24 cyclists! Suggestion: bring an eye mask and ear plugs; most will be sleeping in a large room with others.
Group dinner & entertainment was provided by Rockwood Mill & Opera House.
Day 9: Rockwood - Cumberland, MD, 44 miles. Breakfast in Rockwood was 'grab & go' food purchased by driver, Jan Ciano. Thanks to her foresight! There were no restaurants or retail open in Rockwood Sunday morning.
Nearest town for breakfast: Mayersdale, 13 miles past Rockwood. Breakfast options in Mayersdale: Donges Restaurant- very small breakfast joint that was overwhelmed with hungry cyclists including other riders. Plan B: Sheetz - gas station & large convenience store with plenty of food options and dine-in tables/chairs. Sheetz is 1/2 block away.
Don't forget to stop for a photo op at the tunnel of the 'Eastern Continental Divide.'
Trail conditions were good considering trail was soaked. Rain puddles from the previous day made some sections spongy. Particular care was required over wood bridges and metal plates.
Day 10: Departure from Cumberland, MD.
SUGGESTION: Don't rely on Amtrak for transportation to WA DC. Some riders booked the 9:30am Amtrak departure from Cumberland, MD to WA DC, scheduled arrival 1:00pm at Union Statin. Train was 5 hours delayed. Passengers 'up the line' quickly booked all rental cars in town. Additional obstacles: 1) No shuttles between Cumberland, MD & WA DC.; 2) Uber & Lyft are not allowed to operate from Cumberland, MD. Fortunately, two riders were able to catch the 95 mile return to WA D.C. with another couple who had booked a car rental 5 days prior to departure!
TAKEAWAYS:
FENDERS - front & back. Riders that had fenders stayed mostly clean from sand & dirt kickback on rain days. However, all hotels & hostel had water hose stations to spray off yourself and bike.
Wide tires (42mm ) fared best. Tubeless tires had more problems flatting.
Wool socks are comfortable in wet shoes. A backpack cover is helpful for rain. Bring long finger gloves for wet days.
Always pack extra food. We cycled many miles where no restaurants or retail were available. Places for lunch are limited.
Trail riding takes more concentration than road riding. Trail surfaces change; there were a lot of natural debris present. We often encountered broken branches (ride around or over) and some felled trees (stop and lift bikes over).
Head & tail lights are a must!
A loud bell is very helpful.
Carry one pannier for gear, food, extra clothing.
Getting to Cumberland, MD is challenging. However, it is a good start/end point. At least 8 riders rented bikes from the Cumberland Trail Connection Bicycle Store. It provided excellent service, including equipping each bike w/ a pannier.
RIDE LEADERS:
Barb & Glenn are outstanding ride leaders. They're well organized and very detailed oriented. The daily route was clearly communicated and updates were provided via WhatsApp. Hotel selection was practical based on availability for a group our size (24).
Barb & Glenn gave very helpful safety tips regarding hazards of cycling on wet surfaces (metal plates, wood bridges); how to safely cross curved RR tracks; watching for traffic when trail crosses roads… Their cheerful attitude was encouraging, especially in challenging circumstances. Glenn was especially helpful with all who needed help carrying bikes over obstacles. He generously helped many riders w/ mechanical issues.