Ride the Fall Colors of Carbondale Colorado
September 20th to September 27th
Ride Director: Michael Ballinger
Ride Co-Director: Huey Hurst
Report by: Debby Ofstedahl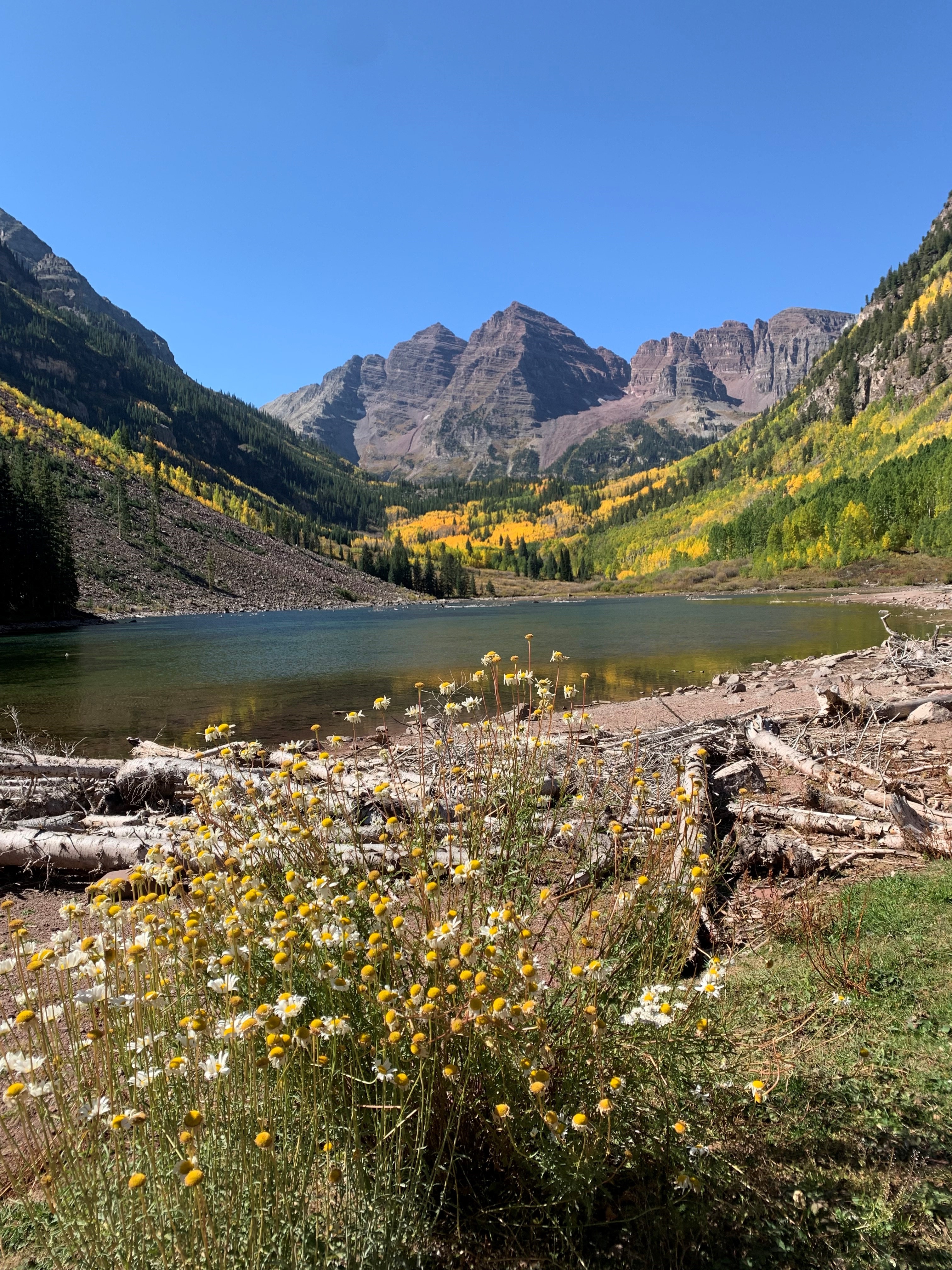 Do you want to ride through the spectacular colors of fall and challenge yourself in the high altitude? Do you want an expert rider from the area to provide you with history of the region and delight you with meaningful rides? Then this is the trip for you. Huey Hurst has lived and worked in the Roaring Fork Valley for decades and made sure we saw all the beauty it had to offer. Mike Ballinger co-led and during the happy hours, helped us gel as a group.
Day 1 found us riding along the Fryingpan River from Basalt and ending up at Ruedl Dam (or beyond if you were so inclined). We saw towering Aspens as we pedaled along the roaring river and were challenged to a climb to the dam. Some of us rode back to Carbondale and were treated to GOATS AT WORK along the Rio Grande Trail.
Day 2 we rode south from Carbondale to historical Redstone, over the challenging McClure Pass (4 miles with 7% average grade) and back to Marble. Marble is the home of Slow BBQ which we all indulged in. Lots of red rock mesas and views from McClure Pass. Also Marble sculptures all over the tiny town.
Day 3 started at the hotel (Comfort Inn Carbondale) to El Jebel hill (it was challenging), Missouri Heights, and a 5 mile downhill back to the Rio Grande Trail. Mostly high desert scenery and vistas of the mesas. Huey told us after El Jebel hill it was gentle rollers. We had to be careful with his definitions as quite a few of the "rollers" had a 11% grade!!
Day 4 was a favorite. Parked in Aspen and rode Maroon Creek Rd up to Maroon Bells. You arrive after a 10 mile, 1600ft climb at Maroon lake which is surrounded by the Maroon Bells named for mountains that are shaped like bells and a maroon color in certain light. All the aspens were in full yellows quaking and reflecting in the lake. A hike around the lake was a must so bike locks and shoes were required! Then a great downhill to lunch in Aspen.
Day 5 we rode along the Rio Grande trail from the hotel to Woody Creek. (The Rio Grande trail is a 40 mile trail from Glenwood Springs to Aspen with no cars and spectacular scenery). Woody Creek Tavern is a must for lunch and a tasty Chicken Estofado (stew). This is where Hunter S. Thompson hung out and we heard many stories about him! Well worth the ride. Slight uphill to get there and easy downhill back. Trail followed the scenic Roaring Fork River where we saw fishermen and paddelboarders!
Our 3 group dinners included Italian, Japanese, and Pizza parlor ambience. All were gourmet and provided us time to get to know each other. Our farthest rider came from PA and closest were 7 riders from Boulder. My first BAC ride and every participant was a treasure. This will not be my last!!