Moab Bike Hike
October 13th to October 21st
Ride Director: Melissa Magee
Ride Co-Director: Curt Simmons
Report by: Lary Schiller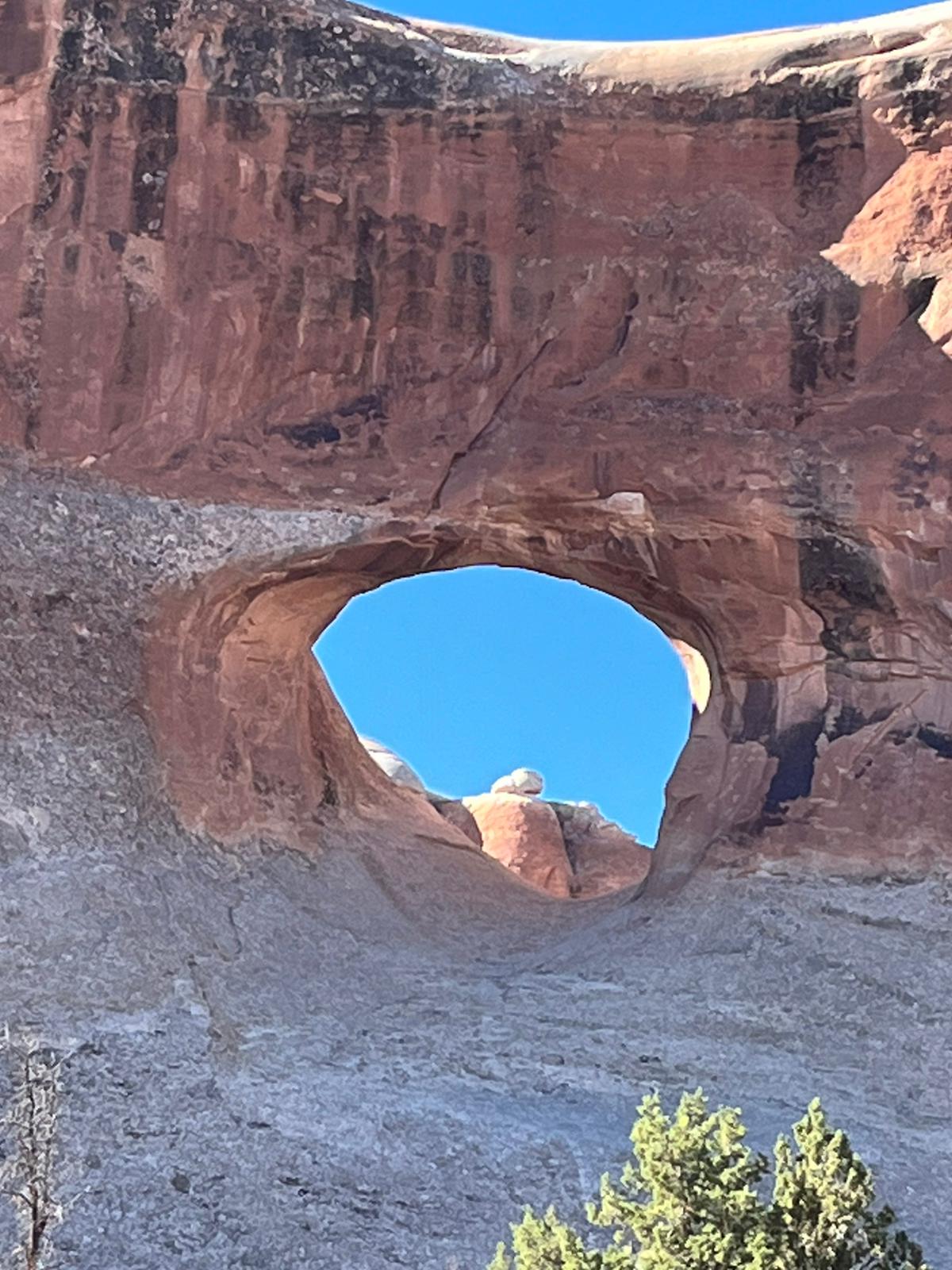 MOAB BIKE AND HIKE TRIPPER REPORT; Oct. 13-21, 2022
From near and far, from coast to coast, we two and twenty came.
The Comfort Suites our home sweet home, to taste of Moab's fame.
Our bikes have now diversified, where only road bikes used to matter, we
Welcome the electrified, we slower ones who love a battery.
Melissa and Curt, our rookie leaders, meshed so well together
Friendly and well organized, and brought us perfect weather
At Happy hour we ate and drank and met old friends and new;
And talked about the rides to come, and each one with a view.
They say we're in a dirt bike town, that mountain bikes are king,
But BAC-ers question that, dust eating not our thing.
We'll stick to roads both steep and flat, ignore each car that passes,
Avoid the rocks and roots and bumps, not great for older asses.
Epic rides are sometime not, but here it does describe
The glory and the beauty of every hike and ride.
The roads are long and pretty smooth, they hardly cause a rattle,
Except for all those cattle guards, what happened to the cattle?
The road to Potash wound its way along the Colorado,
Rock climbers roped along the cliff displaying their bravado.
Carved into stone the ancient ones had sculpted petroglyphs
There were no iPads long ago, so they had to use the cliffs.
The lonely climb to Needles on a perfect autumn day,
The lookout on the valley a spectacular display
The Colorado River in it's languid endless flow,
A lesson in geology, spreading out below.
Arches is a wonderland formed by wind and ice,
2000 arches hidden there, so eat your heart out Bryce
I would have hiked to Delicate Arch, but my feet refused the march
Even my podiatrist can't fix my fallen arch,
But two intrepid hikers whose judgment we might question,
Hiked up to see the sunset there, when there was less congestion
And stayed to see the night sky, that really took some moxie
So let's invent a cocktail, Kath and Sherri on the Rocksie.
Two couples like to ride real close, but never side by side.
Linda and Sandy, Elaine and Boyd, more power on their ride.
I know they practice safe sex, the reason isn't random
Cause every time they start to mount they always use a tandem
The long drive up to Canyonlands across a vast plateau,
Then cycling to Upheaval Dome and the Green River below,
We marveled at the canyon floor down 2000 feet.
Another 40 miles or so and never too much heat.
But wait, there's more, let's go the Castle Valley,
The Colorado at our side, then mountains called La Sal,
The sandstone cliffs, the reds and browns and deep blue sky
No artist ever captures this, no matter how they try.
Last day we packed our lunches and drove to Dead Horse Park
And hiked out to the canyon rims, the cliffs so bold and stark.
Great way to end a perfect week, and even no mosquitoes,
Then Happy Hour, group dinner, and lots of margaritas!
I'd like to toast each one of you, but I haven't got the time,
It's hard to figure how to get twenty-two names to rhyme.
Now it's time to say farewell, go back to our abode,
And hope to meet someday soon, somewhere down the road.
Lary Schiller