Tuscany on the Mediterranean 2010
September 11th to September 21st
Ride Director: Syd Smoot
Ride Co-Director: Thomas Glendinning
Report by: Jacqueline Lawson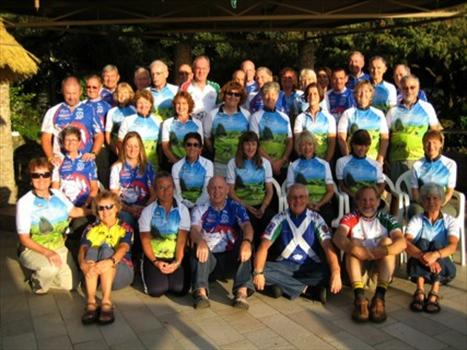 We arrived at the Pisa airport, laden with bikes, luggage and loads of expectations for our 10 days in Tuscany. Our ride leaders, Syd and Tommy had arranged every detail: advanced bike rental through Encorent, airport shuttle, detailed maps, cue sheets, and best of all, our home base for the ride. The Hotel I Ginepri is situated directly on a gorgeous, sandy Mediterranean beach. The shady gardens, pool, and terraces became the location-of-choice for the nightly HH (happy hour) gatherings. All breakfast and dinners were included in our 10-day stay and were served at the hotel. Cuisine and service were topnotch.
With temps in the 70s, we biked out beneath a canopy of umbrella pines to drink in the Tuscan countryside. Farm crops appeared to have been arranged by a master quiltsmith: neat vertical rows of artichokes intersecting with horizontal paths of basil, and diagonal paths of olive trees. Tuscan roads and farms were bordered with sturdy trellises hung heavy with grapes waiting to be pressed into wines. Sunflowers and tomatoes basked in the late summer sun.
Day after beautiful sunny day, we climbed to charming towns with names full of vowels: Campiglia, Castagneto Carducci, Sassette, Sasella, and Suvereto. Our rides were sweetened by restaurants full of freshly made pasta, panninis, bruschettas, and the quintessential Italian specialty: cappuccino. Need I mention the gelato?
The neighboring town of Donoratico met our practical needs for ATM, co-op, and a 5 star bike shop. Ciclo Sport provided our ride jerseys, great mechanics, socks and tubes, tubes, tubes. The Senora in charge feted us with good humor and warm Tuscan hospitality. Inspite of the fact that most people in the small Tuscan towns spoke little English, and most of us spoke even less Italian, we felt welcomed and able to communicate with lots of smiles and gestures.
An ancient fountain sits outside the entry of Monteverdi. Like many towns in the region, it sits atop a hill affording a view in every direction. We rode through Tuscan towns graced with castles, arches, flag- and cobbled-stoned streets. Tiny shops tempted us with ceramics, linens, leather bags and belts, fine wines and more. A coastal ride beyond the town of San Vincenzo was a great opportunity to see more of the Mediterranean beauty, as well as an archeological dig.
Another unexpected highlight of our Tuscan ride was a trip to Petra Winery. All agreed that the exceptional tour through this high tech winery was a worthwhile addition to our trip.
The Tuscan ride lived up to its promise of plenty of hill climbing; however, there were also the exhilarating rides back down to the Mediterranean Sea. Our layover day offered a plethora of options from trains to Cinque Terra, Lucca, Volterra, or Pisa, and side trips by bike. Some decided it was the perfect day to shop at the nearby Donoratico market, or to spend the day on the beach. The day was topped off with a wonderful concert under the Tuscan moon. The acoustic guitar artist, Beppe Gambetto, captivated us with his sweet picking, and songs of his Nonni (grandmother).
Tuscan hospitality, beautiful countryside, and great leadership made this a very special BAC ride.